The right warmth for you and your partner
Our body is warmer than the environment we sleep in and the temperature is one of the factors that determines the quality of sleep.
+me is the duvet with personalized warmth on the chest, legs and feet, thanks to the combination of several panels made of 100% cotton fabric and padded with pure goose down. The modules allow you to achieve your personal comfort and that of your partner:
3 modules for a single duvet;
3 for a queen size duvet;
and 6 for a double duvet.
Choose the warmth, combine the individual panels online quickly and easily and +me will arrive at your home already assembled and ready for use.

King Size Duvet
Composition: 3+3 panels
Dimensions: 250×220 cm
100% Goose Down
€635.00 (VAT included)

Queen Size Duvet
Composition: 3 panels
Dimensions: 200×220 cm
100% Goose Down
€480.00 (VAT included)

Single Size Duvet
Composition: 3 panels
Dimensions: 150×220 cm
100% Goose Down
€375.00 (VAT included)
"To sleep is to be distracted from the world. (Jorge Luis Borges)"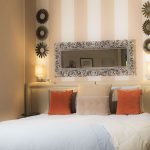 TACOS the ideal duvet cover
TACOS is an innovation compared to conventional duvet covers. It is easy to use because it opens on three sides and locks the duvet in place so it does not move.
Tacos is designed for +me in its double bed version. It can also be used with other duvets. It holds a double duvet and you can choose double-sided or white.
75% sleep poorly due to heat
64% of adults sleep badly because of the cold
55% of coupes disagree on bedroom temperature
Sleep in figures
The numbers prove +me right
We all have the same need to sleep: men, women, parents, children, whether we live alone or as a couple. In sleep we meet our unconscious side and express ourselves through dreams.
While we sleep, the body repairs the immune system, the nerves, the skeleton, the muscular system and plays a major role in endocrine functions.
Sleep improves memory, extends life, reduces inflammation, lowers stress, shapes personality, stimulates creativity and protects brain health. The right amount of sleep makes us healthy and beautiful, and banishes sadness and depression.